Just another day at the @JergensInc office with @Lenox
Tools cutting a car in half at the JIS  Innovation Education & Technology Trade Show !
No tags
Cleveland, OH – January 9, 2013 – Jergens, Inc. is proud to announce that the company has passed its Quality Suppliers List for Manufacturers (QSLM) audit which was conducted on January 9, 2013. The purpose of the audit was to maintain the company's approval as a supplier of Quick-Release Pins to the US Department of Defense. The criteria for passing the audit is similar to ISO9001:2008 standards, with more emphasis on certification and traceability to raw material physical and chemical properties..
By passing this important and comprehensive audit, Jergens, Inc., continues to operate as an approved supplier of Quick-Release Pins for use by the United States Dept. of Defense and all other federal entities which utilize these unique locking pins.
Jergens Kwik-Lok®, Quick-Release Pins were designed provide fast, easy, positive engagement and high holding strength for applications requiring frequent, repetitive use. Simple, smooth operation makes Jergens Kwik-Lok® Pins an ideal replacement for detent, clevis and cotter pins. Beyond military uses, other Kwik-Lok® applications include general industrial/manufacturing, aviation and medical, recreational and marine equipment.
The 17-4 PH-grade stainless steel construction of Jergens Kwik-Lok®, Quick-Release Pins permit installation in corrosive, wet and other harsh or caustic operating environments. Other available materials and finishes include heat-treated alloy steel and cadmium-plating.
Jergens Kwik-Lok®, Quick-Release Pin features & benefits include among others…
Rugged, durable construction ideal for extreme environments
Firm, even grip for smooth operation
Includes hole and ring for easy attachment of optional lanyard
Vibration-resistant
High impact resistance
Quick insertion and removal
Double-acting pins activated by push or pull motion
Multiple handle styles for a wide range of applications
Jergens Kwik-Lok®, Quick-Release Pins are produced under the following manufacturing standards:
NAS Number NASM 1334 – NASM 1348 is also available.
MS / NASM Numbers 17984-90
Special Military and Aerospace size and configurations are available.
For more Jergens Kwik-Lok®, Quick-Release Pins information visit www.jergensinc.com/site/showcase_KLP or contact the company at Jergens, Inc. at 15700 S. Waterloo Road, Cleveland, OH 44110-3898. Phone: 877-486-1454; Fax: 216-481-6193.
E-mail: info@jergensinc.com
Ball Lock pins, Jergens, Military Pins, MS, Quick Release Pins
Now available in high grade 17-4 stainless steel, Jergens popular Ball Lock® Quick-Change Mounting & Fixturing System can now be expected to provide a long service life when installed in the most extreme operating environments.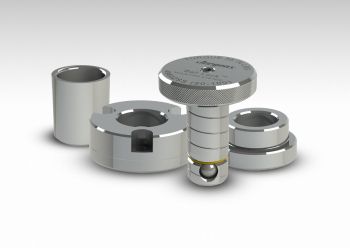 Jergens Ball Lock® Quick-Change Mounting and Fixturing System is the first of any fixturing system to be produced in high grade stainless steel. This move was driven by customers wanting to extend the benefits of Ball Lock® quick change and precision locking technology within corrosive, wet, caustic and similarly harsh manufacturing environments.
This development also enables the Ball Lock® Quick-Change Mounting & Fixturing System of stainless steel shanks, face or back-mount receiver bushings and liners, to also be used in NSF-regulated, medical-grade, and other purity-stringent manufacturing environments.
Ball Lock's popularity among both fixture builders and machine tool operators, stems from its ability to quickly and accurately locate fixtures onto machine tables. The ability to lock and unlock Ball Lock's shanks in seconds, permits the exchange of fixtures in less than a minute, with a position repeatability and accuracy of +/-0.0005" (+/-0.013mm) or better.
The Ball Lock® System utilizes a patented locking technology to securely hold fixture plates to subplates with up to 20,000 lbs. (9000 kg.) of hold-down force per shank. Fixtures can also be quickly exchanged between different machines when both are using the Jergens Ball Lock® Mounting System.
The Ball Lock® system can be configured to create lean-optimized solutions for the most demanding appliciation needs. The benefits of using the Ball Lock® system include:
Incredibly FAST setups and changeover
Powerfully strong holding forces
Combines locking and locating in the same motion
Eliminates the need for indicating on CNC machines
A complete range of stainless steel Ball Lock® accessories are also available including T-Slot nuts, tapered caps & nuts, lifting handles, Sine fixture keys, fast-acting Ball Lock® keys, pre-machined T-columns and 4-sided tooling columns, and Ball Lock® vises.
Cleveland, OH – August 23, 2012 – Jergens, Inc., one of the world's largest manufacturers of lifting, workholding, and fastening solutions, will conduct a session entitled "Set Up Time vs. Cycle Time: The Profitable Benefits of Implementing Quick Change Fixturing" at the IMTS 2012 Conference in Chicago. The session (IMTS06) will be held on Monday, September 10, from 2:00 p.m. to 2:55 pm in room W195.
In the never-ending quest to increase margins and profitability, cost-saving measures traditionally focus on reducing cycle times, often without taking into account the considerable cost-saving benefits of reducing set up times. Jergens' interactive presentation at the IMTS 2012 Conference will demonstrate the benefits of implementing a quick change fixturing system in 5-axis, horizontal and vertical machining centers, and 4th axis indexers and rotary tables.
The presentation will use a variety of field application examples, videos and comparative analyses to educate attendees on how reducing set up time can have a significant impact on profitability as compared to reducing cycle time. The presentation will also highlight how advances in quick change fixturing options and methodologies can help attendees:
Limit the number of set-ups required
Reduce tool change time
Minimize spindle down time
Free up additional capacity
Implement lean cells
Profitably take on smaller runs
To document the cost-saving benefits of quick change fixturing in real terms, attendees will be presented with methods for calculating direct savings from set up time reduction, savings achieved from reduced tool change time and calculation of recovered machine hours, as well as ROI for a typical installation.
To register for the session, visit www.imts.com or www.jergensinc.com. Visit Jergens at IMTS booth W-2312 to learn more about quick change fixturing trends and cutting edge systems.
Got a specialized lifting application?

Need to mount lifting hardware
on molds, dies, & other heavy equipment?

I'm excited to introduce Shackle-Lok™, a new shackle-style hoist ring from Jergens, Inc.

It's a totally unique lifting device, and something we designed with an OEM customer. We got such positive feedback we decided to permanently add it to our line of quality hoist rings.

I hope you'll give it a try. It's really the most versatile below-the-hook lifting device available.

Thanks,

Tim Golling

Jergens Lifting Solutions Group

Internal ball bearings allow
for smooth rotation under load
Full 360° swivel and 180° pivot action
Easy-to-remove shackles are interchangeable
Body can accommodate a wide
variety of shackle styles

Rated 5:1 strength factor
Material: alloy steel
Bolt and base are magnetic
particle inspected
Proof tested to 200% of rated load capacity
---
No tags
Cleveland, OH – June 21, 2010 –Jergens, Inc. will showcase its line of quick change fixturing solutions in booth W-2312 at the 2010 IMTS show being held at Chicago's McCormick Place September 13 – 18.
Jergens will hold demonstrations of its three premier quick change fixturing solutions, including the Bock Brand Quick Change System, the Ball Lock™ Mounting System, and the Zero Point System (ZPS). Each system is designed to dramatically increase productivity and throughput by speeding up set ups and changeovers, resulting in more machine uptime.
The Bock Brand Quick Change System is an ideal solution for establishing flexible and productive machining cells with accurate repeatability to within +/- .001" (0.0254mm). The foundation of the Bock system is the alpha-numeric locator plate, upon which Twin Vises and Mono Quads can be mounted with patented Dexloc™ Double Expanding Locator Pins.
The Ball Lock™ Mounting System is the most widely used quick change fixturing system on the market. Designed to speed the accurate locating and locking of vises and fixtures to subplates, Ball Lock™ accurately positions your fixtures with a repeatability of +/- 0.0005" (+0.013mm), minimizing the need to indicate your fixture. Fixtures can often be changed in less than a minute, and can be exchanged between different machines when both are using the Jergens Ball Lock™ Mounting System.
For applications where quick changeover and precision locating are critical, Jergens' Zero Point System (ZPS) can cut set up times by up to 90% with repeatability within +/- 0.0002" (0.005mm). This revolutionary technology allows you to fix, position and clamp in a single step and is an ideal solution for a wide range of applications, including those where corrosion-resistance is needed. Available with either pneumatic or hydraulic release, these positive locking locating modules allow operators to quickly change out large and small fixtures with extreme accuracy and minimal effort.
In addition to hands-on demonstrations of all three quick change fixturing systems, Jergens Workholding Solutions Group will also debut its new Ball Lock™ Wizard. This unique web-enabled program empowers Jergens customers to configure and price a Ball Lock™ System to meet their specific application requirements. Intuitive and feature-rich, the Ball Lock™ Wizard guides users every step of the way, providing real-time product visualization, CAD drawings and cost estimates. The Ball Lock™ Wizard will be available for demonstration at IMTS 2010 in Jergens' Interactive Café, booth W-2312.
No tags
Cleveland, OH – April 22, 2010 –Jergens, Inc. announced today that both its TCD and ASG divisions were recertified to ISO 9001:2008, reinforcing the company's commitment to maintaining the highest possible quality standards. Jergens' TCD Division designs and manufactures tooling and workholding products, specialty fasteners, and lifting products, while the ASG Division distributes and services tools used in light assembly. 
Maintained by the International Organization for Standardization, the internationally accepted ISO 9000 series of standards were written to provide a consistent basis for establishing product and service quality requirements and to provide guidelines that govern quality management systems. The new 2008 standard provides clarification of existing standards, and requires more rigorous control of outsourced processes, quality system documentation, infrastructure oversight and management.
The successful recertification at Jergens was the result of a coordinated effort among all employees to continually improve its quality management system and provide exceptional customer service. "Jergens has a history of exceeding product and service quality requirements, and our company-wide dedication to continuous improvement is an ongoing goal," says Sean Stapulionis, General Manager. "We're proud that AQA International has approved us for this prestigious certification."
As part of our ongoing efforts to deliver outstanding value- added service and support to our customers, Jergens is proud to announce the launch of a brand new website at www.jergensinc.com.
We wantto be your #1 source for workholding, lifting and specialty fastener products...but we also want to be your #1 source for information to help you stay lean and profitable. This new website was designed to be a user-friendly resource, giving you instant access to a wide variety of information in one convenient place.
For those of you who already use our website to check stock and price, or order Jergens products, you'll now have enhanced abilities to do so. You'll also find comprehensive product information including technical specs, line/CAD drawings and product literature, but there are also some convenient new tools and features for you:
A new, user-friendly interface that saves you time and effort. All information related to a specific product (technical specs, PDFs, part numbers, related products, line drawings) is now available on the product detail pages.
Interactive Kwik-Lok™ Pin Selector to choose the right size and style for your particular application
Rich, solution-based content for a wide variety of industry applications. New animations, FAQ, glossaries, case studies, application information and much more is available.
Cost-saving calculators give you the opportunity to use your own information to calculate how much money products like our Ball Lock™ or ZPS Quick Change Fixturing systems can save
Additional resources, including a self-service video library and a competitor part number conversion program
Helpful insights on industry trends and lean manufacturing in the very blog you're reading right now.
We welcome you to visit us at www.jergensinc.com and check back often for updates, or subscribe to this blog by clicking the RSS tab at the top of this page.
Be sure and let us know what you think about the new site...your feedback is important to us. We'll try to incorporate any suggetions you have into future improvements.
Thank you!
Sean Stapulionis, General Manager
No tags